Parties now can see their cases and associated information at a glance.
 
With the app, parties can 
Search pending cases and associated events and tasks. 
View case documents.  
Contact case participants and case manager by phone or email directly from the app.  
Log in to the app using your existing AAA WebFile username and password.  If you are not currently registered with our website, please register here.

Designed for Apple and Android phones and tablets, the mobile app is available for free download at the Google Play and Apple app stores.


Take a look inside.
My Cases

At the case level, view:
Party details
ADR process utilized
Applicable rules governing the case
Case Status
Hearing Locale
Party claim amounts
Representatives
Arbitrator(s) or mediator appointed
Case Manager
Case Tasks
Case Events
Case Documents
My Events
View events on all of your cases in one screen.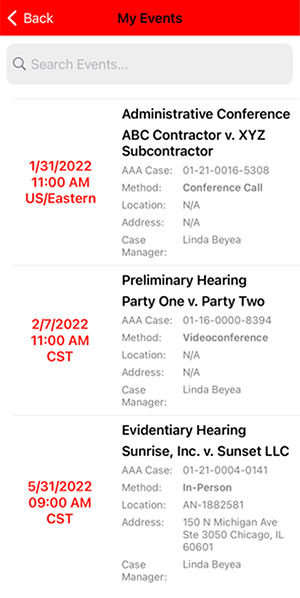 Access event details.
My Tasks
View tasks on all of your cases in one screen.
For technical help and support, please call 1.800.778.7879 
or email customerservice@adr.org.